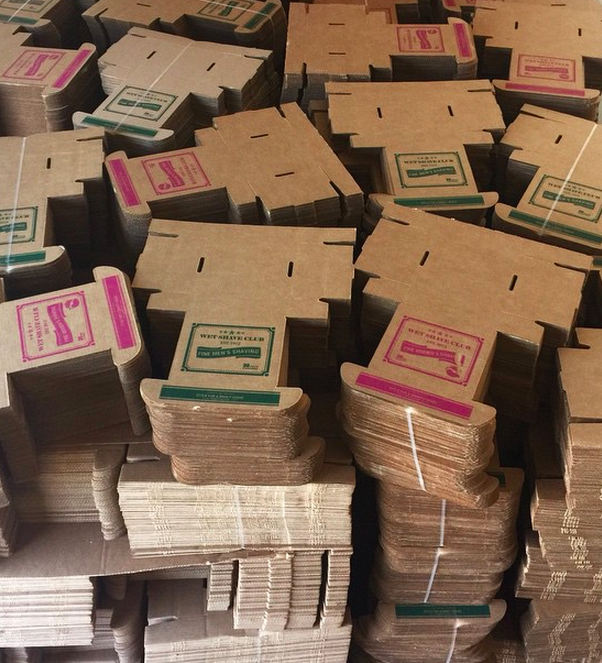 Sales are the lifeblood of every business. No, it's not only about about being passionate and doing what you love, although that can buy you a ticket to the club. Passion alone will not pay your bills. Knowing what to sell, how to get started and when to take the plunge, is how you win big.
Let's take a close look at what it takes to buy an existing ecommecre business that's a proven business model. By taking the headache out of launching an online business from scratch, you can fast track your way to the lifestyle of your dreams.
Introducing The Wet Shave Club
Rohan Gilkes and Kevin Periera bought an existing ecommerce site The Wet Shave Club on reddit for only $4K in 2014, partnered with another redditor and together they spent 2 months completely retooling the business, followed up by 3 months of intensive marketing, they were less than 30 days away from $100K in revenue in October 2014.
What I LOVE about their case is they went into this not knowing a thing about selling and shipping products, logistics, inventory, warehousing, or even wet shaving for that matter. But they live in the information age. Anything under the sun can be figured out if you're resourceful enough and willing to bust your ass until you make yourself an expert in that thing. Remember thses guys are are not well connected, nor do they access to a gazillion dollars in VC funding. They just work hard, and they're just getting started.
Here's their story

About 6 months ago, Rohan came across a thread from a guy on reddit looking to sell an ecommerce business he owned Rohan contacted him and found out that it was wetshaveclub.com a wet shaving subscription box service.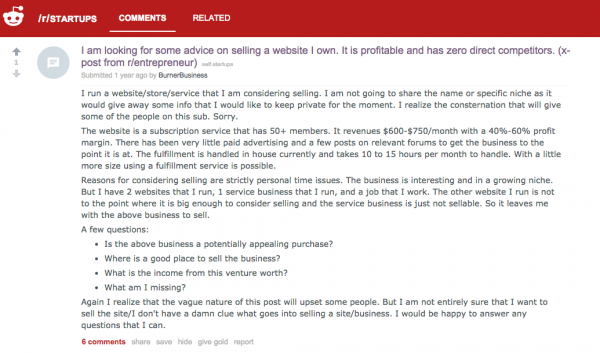 I felt like I could make it work given the fact that dollar shave club had proven out the model so I said – Let's do it!
Rohan offered the seller about 15X his monthly profits, after the site owner sent Rohan a screenshot of his revenue,  and they wrapped everything up that same weekend. They skipped the usual back and forth dance people go through when they're buying websites. Rohan sent over the money and the owner sent over the passwords, and that was that.
Rohan then reached out to fellow redditor Kevin. Kevin had read Rohan reddit posts while Rohan was heavily researching what ebusiness to establish — as you can see from this image — a reddit post – writing your ideas down and and getting early feed back on them is 100% essential. Sound familiar? As UX a UX Design professional I can't stress how essential early research is so important to do, and reddit/entrepreneurs is a great place to do that.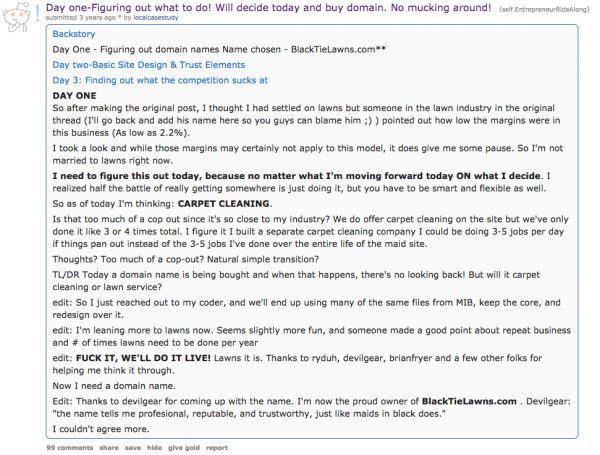 Kevin had recently sold a local business for $40k/month, sold it, and spent a few months in Costa Rica on vacation.What makes this dynamic so interesting is that Kevin and Rohan had never met,  but felt like they would be the perfect partner business fit. Kevin is a guy that does not play around when an opportunity presents itself. Case in point: A few weeks later he was in his car for a 5-day drive from California to the east coast so they could work on The Wet Shave Club.
Ok, so here's when things get moving:
Step 1: Website Rebranding
The original website needed some work and Kevin and Rohan set out to change the look and feel of it. Design is critical, and even more so with a consumer product where emotion is a large component of the buying decision. The original site looked like this:
Step 2: Expanding the Product line and raising prices
The original Wet Shave Club only delivered soaps and at a price of $12 per month. Kevin and Rohan felt that they had to double that price to make the ecommerce business profitable. In order to do this we had to expand the product line and provide more value.
Step 3: Box Rebranding
Since The Wet Shave Club were now shipping more products and had rebranded the site, the next effort was to find a box that worked.Kevin and Rohan called around to different box suppliers and had them send samples. They settled on Salazar packaging. We sent them our box design and they got on it.
Step 4: Increasing prices and adding annual option
Everything up and till then took about 2 months of balls-to-the-wall work, but things were starting to shape up. Kevin and Rohan  were then able to increase prices to $29 for the monthly box instead of $12. The Wet Shave Club also added an annual version at a reduced monthly rate to see if people would prepay for an entire year. And they did.
Step 5: Marketing
With an increase in conversion rates, and their box at a higher price point The Wet Shave Club were able to scale up rapidly. You'll see that most of what they do is completely free marketing mixed in with a few paid sources.
Step 6: Ordering, Warehouse and Shipping
Originally The Wet Shave Club shipped from their living room, and while I had a small office, there was no way they could do it from there any longer. So they found an office and warehouse, moved in 10 days later and got everything set up.
Bonus: The Wet Shave Office
The result of all this work: Kevin and Rohan  going to hit $100K in revenue in the next 30 days, and just passed $78K. Obligatory screenshot.
They did $22K last month: Cratejoy screen shot!
Creatjoy have great analytics, and The Wet Shave Club are on pace to do $35K in September. They are confident they can hit their first $100K month in 6-12 months.
What's Next
Kevin and Rohan are launching an accompanying ecommerce store. This way, when folks find products that they like in the box, they can order more of them. In addition, they can expand the product line a bit to include additional grooming products and other men's accessories.

Key Takeaways
Building The Wet Shave Club is hard work, Rohan and Kevin admit they made a lot of mistakes and will continue to make more. Rohan and Kevin are working every day providing a better customer experience and improving the product line.
I would love to know if using the framework above, do you think you could make it within a year? Leave me a comments below with your idea and details and this week, I'll show you how you can make it happen.
Thanks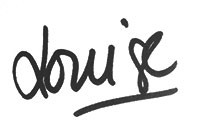 [ztl_optin slug="discover-the-most-powerful-ecommerce-ux-strategies"]